Specialty Thermoplastic Compound Facility in Suzhou Industrial Park Strengthens RTP Company's Ability to Provide Innovative Plastic Technology to China and Worldwide Customers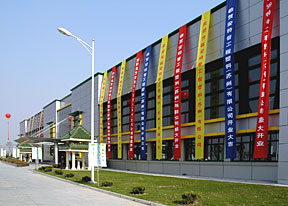 The grand opening of RTP Company's first manufacturing plant in China was celebrated on December 8, 2005. The new 16,000 square meter specialty thermoplastic compound facility located in Suzhou Industrial Park (SIP) has state-of-the-art manufacturing capabilities. The facility offers a full complement of customer support, product development, and technical service to customers in China, along with providing enhanced support and service to multi-national customers.
"Our new Suzhou facility is a strategic move towards globalization necessitated by our growing customer base in Asia and the expectations of our multi-national customers who require the same materials anywhere on the globe," said Hugh Miller, President and CEO of RTP Company. "By building an integrated operation in Suzhou, we are well positioned to develop efficient, long-term relationships with our customers by focusing on profit improvement projects and better supply chain management."
The Suzhou facility represents RTP Company's second manufacturing plant in Asia. RTP Singapore was the first to open in 2002. RTP Company now has seven manufacturing plants on three continents, plus sales representatives throughout North America, Europe, and Asia/Pacific.
RTP Company's new facility is strategically located in Suzhou Industrial Park (SIP), which is 50 miles west of Shanghai. Suzhou lies adjacent to the Yangtze River Valley and on the shores of Lake Tai Hu in the province of Jiangsu. SIP was established by the collaboration of the Chinese and Singapore governments (CSSD) during a joint development agreement. With the support of both governments, SIP has enjoyed a rapid growth rate of about 70% over the past nine years.
"When making the decision on establishing a plant and physical presence in China, Suzhou was the clear choice," said Mr. Miller. "Suzhou is located in an ideal strategic location with an abundance of top-notch talent. And the pro-business attitude of the CSSD is also important."
Lion Dance During Grand Opening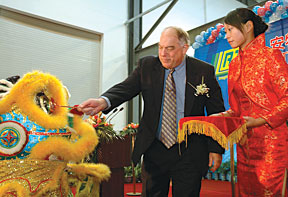 Hugh Miller, President and CEO of RTP Company, paints red circles on a lion to "awaken" him and initiate the traditional Chinese lion dance during the Grand Opening Ceremony of RTP Company (Suzhou) Ltd.
The lion dance is one of China's most distinctive cultural arts in which energetic performers, in costume, mimic the lion's movements. The dance is often performed to bring good fortune, prosperity, and longevity at opening ceremonies.
RTP Company (Suzhou) Ltd. at a Glance
Opened: December of 2005
Location: Suzhou Industrial Park, 85 kilometers (50 miles) west of Shanghai, China.
Size: 16,000 meters2 (170,000 square feet)
Capabilities & Service: Manufactures a broad range of specialty compounds and provides support to customers throughout China.
Address & Contact Information:
RTP Company (Suzhou), Ltd.
123 Tinglan Xiang
Suzhou 215126, China
Telephone: +86 512 62 83 83 83
Fax: +86 512 62 83 83 33
Time zone: +0800 GMT