Specialty Thermoplastic Compound Facility in Suzhou Industrial Park Strengthens RTP Company's Ability to Provide Innovative Plastic Technology to China and Worldwide Customers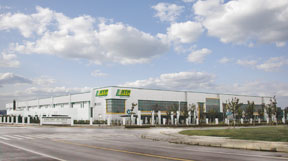 On December 8, 2005 RTP Company celebrated the grand opening of its first manufacturing plant in China. Located in Suzhou Industrial Park, RTP Company (Suzhou) Ltd is a fully owned subsidiary of RTP Company, a worldwide leader in the production of specialty thermoplastic materials.
"Our new Suzhou facility is a strategic move towards globalization necessitated by our growing customer base in Asia and the expectations of our multi-national customers who require the same materials anywhere on the globe," said Hugh Miller, President and CEO of RTP Company. "By building an integrated operation in Suzhou, we are well positioned to develop efficient, long-term relationships with our customers and offer improved supply chain management."
The Suzhou location has state-of-the-art manufacturing capabilities and offers a full complement of customer support, product development, and technical service. Strategically located in Suzhou Industrial Park, which is near Shanghai, the new 16,000 square meter facility will serve as RTP Company's base in China.
"When making the decision on establishing a plant and physical presence in China, Suzhou was the clear choice," said Mr. Miller. "Suzhou is located in an ideal strategic location with an abundance of top-notch talent. And the pro-business attitude of the CSSD (China-Singapore Suzhou Industrial Park Dev. Co, Ltd) is also important."
The Suzhou facility represents RTP Company's second manufacturing plant in Asia. The first Asian facility opened in Singapore in 2002. The company now has eight manufacturing plants on three continents, plus sales representatives throughout North America, Europe, and Asia/Pacific.