RTP Company's Commitment to Global Customers Continues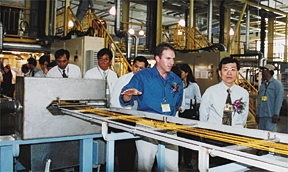 RTP Company recently marked the successful completion of its new manufacturing and customer support facility in Singapore by staging a grand opening celebration on October 10. More than 300 guests, which included local business leaders, dignitaries from the Singapore government, and executives from RTP Company, were present for the festivities as the plant was officially dedicated. Originally opened in late April of this year, the plant was producing samples within the first month of start-up and was brought fully online in just six months.
The opening of the Singapore location completes another stage in RTP Company's global expansion plan, which recognizes the importance of having manufacturing and customer support facilities in close proximity to customers located in key commerce centers around the world. Hugh Miller, Chief Executive Officer of RTP Company, acknowledge the importance of this plan when during the opening ceremonies when he said, "We selected Singapore as the location for our first facility in Asia not only because of its stability and pro-business attitudes, but also its advanced infrastructure and strategic location. The abundant talent in the country will be instrumental in expanding our presence in the region."
The event was highlighted by a keynote address given by Teo Ming Kian, Chairman of Singapore's Economic Development Board. During his remarks Kian said, "In Singapore, RTP Company joins the vibrant community of companies, and provides the critical linkage between the polymer industry on Jurong Island and the electronics and medical device industries. By having its feedstock supply nearby, RTP can significantly improve its cost competitiveness. This is a good example of how companies can benefit from the integration of resources within an ecosystem of companies."
The Singapore unit, which does business as RTP Company (Singapore) PTE Ltd., occupies a 47,500 square foot building in the country's Tuas Industrial Estate. The facility is one of seven manufacturing sites RTP Company operates throughout the world and is its first production location in the Asia/Pacific region. This network of locations allows RTP Company to efficiently supply customers by offering short-lead times even though its speciality compounded products are custom manufactured on order.
Each of these operations function as a satellite company, not only capable of manufacturing RTP Company products, but also providing local access to in-house product development and technical service personnel. Despite the newness of the Singapore facility to the RTP Company family, the company has had a presence in Asia for over 15 years. Sales representatives and distributors are already in place; each of which is committed to providing customers with custom material solutions from an independent compounder who offers the latest high technology products.