End-Use Case Study
As an international engineering company, Shuttleworth, Inc., produces the finest quality in-process conveyor automation and material handling machinery. With an installed base of more than 10,000 systems in light manufacturing, assembly and packaging, food processing, electronics, and cleanroom environments, Shuttleworth relies on RTP Company's innovative specialty compounds for bearings, shaft supports, separators, rollers, and other components.
Our September, 1998, issue of Compounding Lines explained how RTP Company's 4500 Series specialty compound containing reinforced Carilon® is used in bearings, shaft supports, and separators for Shuttleworth's industrial material handling systems.
Today, three new RTP Company compounds are important to Shuttleworth's growth strategy:
RTP 800 Series Acetal Compound
"We use this material often in cleanroom systems," said Klaus Daenzer, Engineer at Shuttleworth. "It does not particulate and can be washed down if necessary. The conductive compound has excellent wear resistant characteristics and superior lubricity."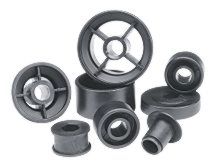 RTP 3400 Series LCP Compound
This material offers conductivity, wear resistance, and high temperature performance, ideal for semi-cleanroom environments such as light electronic assembly. "Manufacturers of radios and other devices can protect electronic components from damage caused by ESD," continued Daenzer. "Because of its chemical resistance, it's perfect for bushings and rollers in this type of system."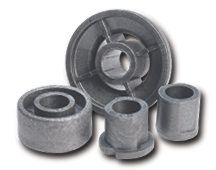 RTP 1300 Series Polyphenylene Sulfide
This material is nearing completion of final tests for dry cleanroom applications. Specified for bushings, T-bars, corners, and spool seals, it displays excellent wear properties.
Shuttleworth's patented Slip-Torque® uses individually-powered roller shafts with segmented rollers to keep products moving evenly and consistently down line. If a product encounters resistance, the individual rollers stop rotating to avoid damage. The Slip-Torque® principle allows gentle handling and low-pressure accumulation.
Shuttleworth, Inc., Huntington, Indiana, has been in business for 37 years. Their manufacturing facilities are located in the U.S., Japan, and Ireland. Contact them at 219-356-8500.