RTP Company's Color Division announces a renewed commitment to its global color development service by introducing its Your Color — Your Way Service. The service provides fast, accurate, and consistent color development around the world in the customer's preferred mode, without bias.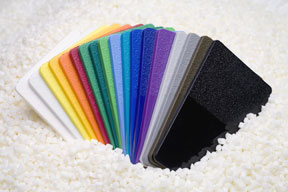 "RTP Color can provide the plastic processor with the most appropriate coloring method – masterbatch, precolored resins, or a pre-blended mix of masterbatch and natural resin (cube blend) – without bias to suit the manufacturer and product," said Jean Sirois, Global Color General Manager at RTP Company.
RTP Company has an unparalleled knowledge of all polymers and the ability to color all engineering polymers and polyolefins. As a manufacturer of both masterbatch and precolored resins, RTP Company can provide the plastic processors with unbiased information on the benefits and disadvantages of each method.
"Recently, we've put a renewed emphasis on masterbatches by heavily promoting them to plastics processors," continued Sirois. "Our manufacturing expertise, polymer know-how and global network allowing for quick product transfers all contribute to make RTP's Color Division competitive and one of the best performing offerings in the marketplace."
RTP Company's masterbatch selection includes a vast variety of standard engineering masterbatches and an exciting new line of UniColor™ universal masterbatches, used for coloring multiple polymers. Recently, RTP Company has expanded the range of UniColor™ product offerings.
RTP Company's quick product transfer is especially noteworthy because of its globally-managed facilities. With manufacturing plants on three continents, RTP Company is still able to quickly and efficiently serve customers across the globe. The same production procedures, color matching equipment, and raw materials are used worldwide to ensure manufacturing of the same standards in all locations. RTP Company's fast and accurate global color development is solidified through the many benefits it produces; the advantages of no rematches and no regulatory issues between global facilities help to support RTP Company's Your Color — Your Way service.