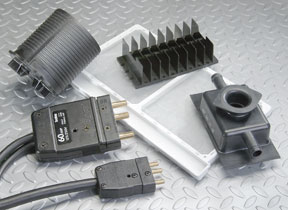 With manufacturers increasingly tapping the world's workforce and markets, you need proven materials that are accepted wherever you do business. A variety of eco-labels and government regulations have been established to encourage the manufacture of products with reduced impact on the environment.
RoHS & WEEE Compliance
RoHS (Restriction of Certain Hazardous Substances) and WEEE (Waste of Electrical and Electronic Equipment) are two complementary European Union initiatives aimed at reducing the use of potentially harmful substances in manufactured goods and ensuring that manufactures establish recycling programs to minimize environmental impact by end-of-life products.
RoHS bans the use of halogenated flame retardant additives containing PBDE, such as those that have DecaDBE in their chemistry. RTP Company offers RoHS-compliant flame retardant compounds allowing your products to be marketed worldwide.
Halogen-Free Restrictions
Environmental concerns have resulted in voluntary policies by global OEMs to limit or eliminate the use of halogenated flame retardant additives in their products.
RTP Company has halogen-free flame retardant compounds in all major resin systems. When existing products must be brought into compliance we have "drop-in" alternative compounds to halogenated grades that offer the same flammability performance.
"Green" & Environmentally-Friendly Products
Consumers are increasingly weighing the environmental impact of products they purchase as part of their buying decisions and look to voluntary eco-labels that evaluate products against certain criteria.
Most often, whether a product qualifies as "green" is subjective and must be defined. Criteria could range from restricting certain substances to ensuring end-of-life recyclability or utilization of bio-derived or post-consumer feedstocks.
At RTP Company, our solution-driven philosophy allows us to develop plastic compounds that meet your precise needs — for local or global markets. Our expert engineers can help guide you through the labyrinth of compliance with regulations or voluntary environmental standards.
RoHS — Restriction of Certain Hazardous Substances
WEEE — Waste of Electrical and Electronic Equipment
REACH — Registration, Evaluation, Authorization and Restriction of Chemicals
EPEAT — Electronic Product Environmental Assessment Tool
LEED — Leadership in Energy and Environmental Design
Contact RTP Company's Regulatory Engineering staff at msds@rtpcompany.com or +1 (507) 454-6900 to request documentation that a RTP Company compound is compliant with governing regulations or defined criteria.