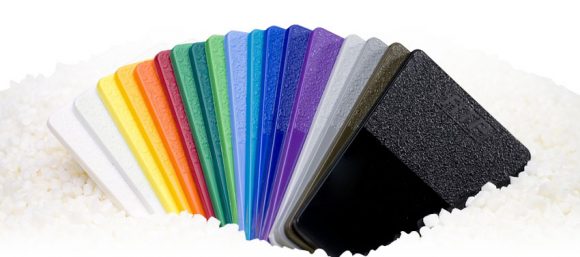 You know that color makes your products sell… and choosing a supplier who provides top quality colored thermoplastic materials in your preferred delivery mode is as important as selecting the right hue!
At RTP Company, we provide color solutions that are innovative, consistent, and optimized for your design. With responsive, personalized service and consistent quality that you can rely on, we are a true global supplier of color thermoplastic solutions.
Your Color – Your Way
Our fresh approach to coloring plastics is known as "Your Color – Your Way". We offer unbiased information to help you:
Select the Right Color
Select the Right Color
Our color experts are well versed in the factors that affect color, such as resin type, processing conditions, and lighting conditions. We have a wide selection of standard colors, or we can prepare a custom color match for your thermoplastic materials.
We can also provide insight into global market color trends and the impact of color on market acceptance. Visit www.hueforia.com for color palettes that will capture the imagination – and attention – of your target customer base!
Meet Regulations
Meet Regulations
Do you have a healthcare device, industrial component, or automotive part that must meet regulations? Our engineers have years of experience in understanding and complying with UL, NSF, FDA, CONEG, and more. For more information, simply click this link to Ask Our Engineers.
Determine Additional Properties
Determine Additional Properties
Depending on the specifications for your application, you might need some functional additives to improve the performance of your thermoplastic application. Or maybe you'd like to add some amazing special effects like metallic, pearlescent, or camouflage colors to your materials? Either way, our engineers can help formulate additional properties into a single material to meet the exact criteria you specify.
For more information about specific color thermoplastic solutions, select from the menu below:
Standard, universal, or custom colors
Carriers optimized for easy processing
Production orders shipped in 10 days or less
RTP Company's color expertise dates back nearly 50 years. Our unmatched understanding of plastics coloring comes from working with every polymer from polyolefins to PEEK.
This history and experience allow us to produce masterbatches using the best technologies available in pigments, carriers, and processing.
Whether you need dazzling color for a consumer item, simple color coding for an industrial device, or a performance enhancing additive — RTP Company is your best choice for quality masterbatch products.
Our formulations are individually optimized for maximum performance with your resin and let-down-ratio for either injection molding or extrusion processing.
Unparalleled product selection, production capabilities, commitment to service, and attention to detail only experience can provide are all available from RTP Company, whether your choice is a standard, universal, or custom color or additive masterbatch.
Request your copy of our Color Solutions brochure today!
Learn more about attaining quality color and how RTP Company will make your next application a colorful success.
Black & White Masterbatch
Standard, universal, and specialty carriers in over 40 standard line card products as well as multitudes of custom formulations
An industry leader in excellent dispersion for thin film applications in both black and white
General purpose, blown film, FDA compliant, and excellent UV options
RTP Company offers top industry performing Black and White Masterbatches. With RTP Company's long history of compounding knowledge, our Black and White Masterbatch products offer excellent dispersion while maintaining the highest loading levels for processing ease at the lowest cost. Our Black and White Masterbatch Line Card includes over 40 standard products which span across polyolefin, styrenic, universal, engineering, and specialty carriers to cover a wide range of market areas. Our expertise spans across many industries, including:
Wire & Cable
Automotive
Sheet Extrusion
Compounding
Geomembrane
Electronics Packaging
Black Masterbatch
RTP Company's Black Masterbatch product line offers loadings of up to 50% carbon black at various carbon black particle sizes. The carrier resins are designed to meet specific melt flow requirements depending upon whether or not your application is extruded or thin injection molded parts. FDA compliance, excellent UV, and high color options are also available./p
White Masterbatch
RTP Company's White Masterbatch product line offers loadings of up to 70% titanium dioxide of film grades and standard processing masterbatch grades. Additional products include durable grades for added UV resistance as well as FDA compliant, appliance white options.
Experience the highest levels of support by partnering with RTP Company's dedicated Black and White Masterbatch team who can assist with product design, processing, and commercialization. Our technical expertise, vast experience, and dedication to customer care differentiates us as a global leader in plastic compounding.
For more technical information on Black and White Masterbatches, view our...
UniColor™ Universal Masterbatch
This exciting new product line has emerged from RTP Company as an innovative answer to coloring multiple polymers, including engineering resins. UniColor® products are truly universal masterbatches with extremely low let down ratios, typically 1% or 2% depending on the resin and do not require drying prior to processing.
UniColor® is a great solution for processors that want one color product for applications made with different polymers. It is also ideal for low volume applications with buys as small as 50 pounds.
Number
Color
PVC
PE
PP
PS
ABS
POM
PBT
PA
PC
S-26093 MB
UniColor®
Bright White
S-26091 MB
UniColor®
White
S-26092 MB
UniColor®
Polar White
S-26094 MB
UniColor®
Ivory
S-42506 MB
UniColor<®
Magnolia
S-32200 MB
UniColor®
Beige
S-32199 MB
UniColor®
Terracotta
S-95782 MB
UniColor®
Chocolate Brown
S-42658 MB
UniColor<®
Yellow HT
S-42505 MB
UniColor®
Signature Yellow
S-42562 MB
UniColor<®
Value Yellow
S-480241 MB
UniColor®
Nectarine
S-54237 MB
UniColor®
Red HT
S-54103 MB
UniColor®
Flame Red
S-54025 MB
UniColor®
Strawberry Red
S-59830 MB
UniColor®
Raspberry
S-54104 MB
UniColor®
Rocket Red
S-64801 MB
UniColor®
Fluorescent Green
S-64800 MB
UniColor®
Springtime Green
S-64605 MB
UniColor®
Alpine Green
S-64718 MB
UniColor®
Green
S-64719 MB
UniColor®
Spearmint Green
S-700136 MB
UniColor®
Pale Blue
S-700134 MB
UniColor®
Powder Blue
S-700133 MB
UniColor®
Sky Blue
S-700135 MB
UniColor®
Mid Blue
S-700295 MB
UniColor®
Royal Blue
S-700296 MB
UniColor®
Ultra Blue
S-884287 MB
UniColor®
Light Gray
S-884292 MB
UniColor®
Soft Gray
S-884291 MB
UniColor®
Dove Gray
S-884289 MB
UniColor®
Ash Gray
S-884290 MB
UniColor®
Mid Gray
S-884288 MB
UniColor®
Dark Gray
S-884293 MB
UniColor®
Graphite
S-801569 MB
UniColor®
Deep Black
S-884294 MB
UniColor®
Silver
S-95783 MB
UniColor®
Gold
S-480242 MB
UniColor®
Copper
Visual representations of color and electronic images on this website will vary greatly depending on various settings and the manufacturer of your computer system, monitor, and the web browser software used to display such color and images. Therefore, it is recommended that you obtain a sample of any product prior to purchasing for color verification and approval. RTP Company disclaims any responsibility for reliance on the colors or electronic images rendered herein.
UniColor® and UniColour® are registered trademarks of RTP Company.
RTP Company offers highly concentrated and efficient functional additive masterbatches to complement our broad range of color products and specialty compounds.
These masterbatches are modern formulations which maximize additive usage, providing plastics processors optimal functionality at minimum cost of usage, and are available world-wide.
For a PDF version of the below information, view our Additive Masterbatch brochure.
Anti-Static Masterbatch
Foaming Agent Masterbatch
Grade
Description
Carrier
Compatible Resins
FCX 111263 (PDF)
Endothermic
PE
Polyolefins
FCX 27301 (PDF)
Exothermic
300-350 °F / 150-175 °C
PP, PE, POM, PA 11, & PA 12
FCX 27314 (PDF)
Exothermic
300-350 °F / 150-175 °C
PS, HIPS, SAN, & ABS
Glow-in-the-Dark Masterbatch
Laser Marking Masterbatch
Our laser marking masterbatches are designed to work with laser technology to produce permanent marks that are resistant to wear and abrasion. Formulated in PE, TPU, TPE, TPV, POM, PA, and PBT base resins, these materials allow for durable, high contrast marks and images to be added via laser processing.
Have a question about RTP Company's Laser Marking Masterbatch?
Antimicrobial Masterbatch
Flame Retardant Masterbatch
UV Stabilizer Masterbatch
Ultraviolet (UV) stabilizers extend the useful life of products exposed to the damaging effects of sunlight or other sources of ultraviolet radiation. We use UV inhibitors to protect the material by absorbing harmful wavelengths and/or interfering with the free radical formation of the polymer molecules from UV exposure. These proprietary blends of additives protect and enhance the polymer to provide a cleaner, brighter appearance over traditional stabilizer packages.
Have a question about RTP Company's UV Stabilizer Masterbatch?
For a PDF version of the above information, view our Additive Masterbatch brochure.
Coloring of tradename resins or specialty compounds
Custom matches or standard colors available
Production orders and samples shipped in 10 days or less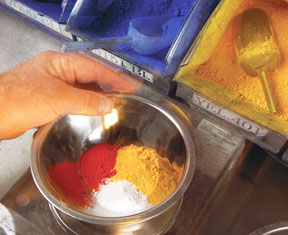 Complementing our extensive specialty product portfolio, RTP Company can color any resin you select to the exact color you request.
Unparalleled experience that comes from routinely working with over 60 different polymers types in combination with 100s of performance additives — coupled with corresponding process quality control necessary to produce specialty materials — guarantees that your color will match your approved standard during every production run.
Precolor products range from custom compounds to specific tradename resins from any resin manufacturer — whether you need a specific polymer or let RTP Company choose the resin based on your specifications, we maintain the same precise color tolerances.
Our precolored samples and production orders are delivered when you need them—always with the highest quality and commitment to service, and attention to detail only experience can provide.
Request your copy of our Color Technologies brochure today!
Learn more about attaining quality color and how RTP Company will make your next application a colorful success.
A cube blend, also referred to as a salt & pepper mix, is a proportional mix that combines a masterbatch and natural polymer into a ready-to-use package. Color consistency and quality is ensured by RTP Company and the processor avoids steps related to blending or metering accuracy. One of the main advantages compared to precolored resin is that the majority of the polymer has not been previously melted by compounding, thus preserving its original properties.
Manufacturers and molders around the world rely on us for sound advice, quality color solutions, and outstanding technical support. We welcome the opportunity to discuss your color technology needs. Let's get started by creating Your Color – Your Way!
Request your copy of our Color Solutions brochure today!
Learn more about attaining quality color and how RTP Company will make your next application a colorful success.

Color Solutions Brochure
More Information
Color Product Lines
Also See
Line Cards
Innovation Bulletins
White Papers