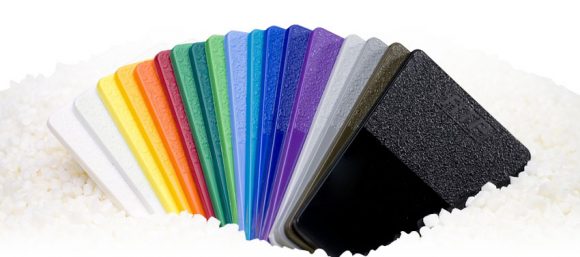 You know that color makes your products sell… and choosing a supplier who provides top quality colored thermoplastic materials in your preferred delivery mode is as important as selecting the right hue!
At RTP Company, we provide color solutions that are innovative, consistent, and optimized for your design. With responsive, personalized service and consistent quality that you can rely on, we are a true global supplier of color thermoplastic solutions.
Your Color – Your Way
Our fresh approach to coloring plastics is known as "Your Color – Your Way". We offer unbiased information to help you:
Select the Right Color
Select the Right Color
Our color experts are well versed in the factors that affect color, such as resin type, processing conditions, and lighting conditions. We have a wide selection of standard colors, or we can prepare a custom color match for your thermoplastic materials.
We can also provide insight into global market color trends and the impact of color on market acceptance. Visit www.hueforia.com or download the Hueforia 2021 Brochure for color palettes that will capture the imagination – and attention – of your target customer base!
Meet Regulations
Meet Regulations
Do you have a healthcare device, industrial component, or automotive part that must meet regulations? Our engineers have years of experience in understanding and complying with UL, NSF, FDA, CONEG, and more. For more information, simply click this link to Ask Our Engineers.
Determine Additional Properties
Determine Additional Properties
Depending on the specifications for your application, you might need some functional additives to improve the performance of your thermoplastic application. Or maybe you'd like to add some amazing special effects like metallic, pearlescent, or camouflage colors to your materials? Either way, our engineers can help formulate additional properties into a single material to meet the exact criteria you specify.
For more information about specific color thermoplastic solutions, select from the menu below:
Manufacturers and molders around the world rely on us for sound advice, quality color solutions, and outstanding technical support. We welcome the opportunity to discuss your color technology needs. Let's get started by creating Your Color – Your Way!
Request your copy of our Color Solutions brochure today!
Learn more about attaining quality color and how RTP Company will make your next application a colorful success.

Color Solutions Brochure
More Information
Color Product Lines
Also See
Line Cards
Innovation Bulletins
White Papers