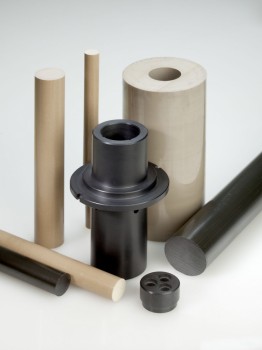 Controlled geometry pellets (CGP) have a unique patent-pending design with an optimized aspect ratio specifically targeting thick-walled compression molded stock shape producers and their end-use customers. For molders, CGP reduces the amount of compaction required when compared to power blends, resulting in improved packing ratios,higher production yields without the material handling requirements of typical compression molded powder blends.
As a fully compounded solution CGP; multiple additives such as fiber reinforcements, lubricants, other modifiers, and color can be combined into a single precision pellet that is custom engineered to meet end-use customer
requirements. Physical property improvements from 20% to 160% are possible with CGP, when compared to compression molded powder blends, allowing end-use customers to design parts from CGP compression molded shapes that were previously reserved for extruded or injection molded stock shapes.
Additionally, CGP compression molded shapes are more uniform, have better dimensional stability, less molded-in stress allowing for the production of precision machined parts.
Available in PEEK and PPS compounds, the technology can be extended to other thermally stable resins like PES, PEI, PPA and melt-processable fluoropolymers.
CGP compression molded shapes are ideal for:
Centrifugal pump components
Compressor piston and rider rings
Valve seats
CMP Rings
Down-hole seals and backup rings
Compressor valve plates
Food preparation equipment components
HPHT Oil and Gas components
Chip trays
Bushings and thrust washers
Pump vanes and gears
Pulp and paper machinery components
For more information, view our Controlled Geometry Pellets Innovation Bulletin.
Data Sheets
• RTP 2299 X 121590 A CGP PEEK 25 PTFE
• RTP 2299 X 122962 CGP PEEK 50 PTFE
• RTP 2299 X 140311 A CGP PEEK 30 GF
• RTP 2299 X 126081 A CGP PEEK 2 PTFE
• RTP 2299 X 127826 CGP PEEK 1 PTFE
• RTP 2299 X 120320 B CGP PEEK 30 CF
• RTP 2299 X 120345 CGP PEEK 10-10-10
---
More Information
Product Information

Case Studies

White Papers

 Innovation Bulletins

Structural

Wear Resistant

Conductive

Thermoplastic Elastomers

Eco Solutions

Other Technologies